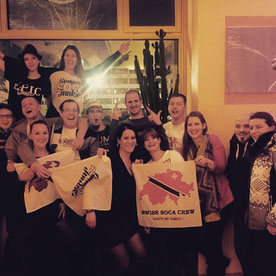 Was für ein Wochenende in Berlin !!! 
Wir haben am Band Launch von Carnival Explosion teilgenommen und hatten einige fantastische Tage in Berlin gehabt.
Angefangen mit dem Lime im Priscilla, was ein guter Startschuss für den Abend war, ging es danach in das YAAM.
Nach dem Warm Up von Count Shortleg und Team Thunda, übernahmen die Soca Twins und brachten die Stimmung zum kochen. 
Auf dem Höhepunkt, wurden dann das Motto und die Kostüme für den Berliner Carnival am 24.05.2015 vorgestellt.
It´s all about "Midnight Robbers" !!!
Wundervolle Kostüme für die Frau und den Mann wurden uns gezeigt.
Diese liebevollen Kreationen dürfen wir nun zum Road March tragen und können es kaum erwarten.
Nach der Präsentation wurde noch bis in die frühen Morgenstunden gefeiert.
Wir möchten uns nochmal ganz herzlich bedanken bei der deutschen Soca Familie, die uns so warm empfangen hat.
Danke German Soca Junkies, Soca Twins, Barney Millah,
Team Thunda, Count Shortleg,Harry Cane,
die Mitarbeiter vom Ibis Hotel Ostbahnhof und vom YAAM.
Ebenso alle die, die mit uns gefeiert haben.
Wenn ihr euch uns für den Berliner Carnival anschließen wollt, dann registriert euch hier.
This was a wonderful weekend in Berlin. We took part of the Carnival Explosion Band Launch at the YAAM.
The day started with the great Lime at Priscilla and later we were heading towards the YAAM.
The Warm Up started with Count Shortleg and Team Thunda then the Soca Twins took over. They were heating it up to the maximum.
On the height, we were introduced to the motto and costumes for Berlin Carnival on 05/24/2015.
It was all about "Midnight Robbers" !!!
Beautiful costumes for women and men were shown.
We can´t wait to wear this lovely creations on the Road March.
After the presentation, we was feting till di early morning.
We like to say thank you to the whole German Soca family, who gave us a warm welcome.
Thank you German Soca Junkies, Soca Twins, Barney Millah,
Team Thunda, Count Shortleg, Harry Cane,
Merle´s Trinidad Cuisine, the staff from Ibis Hotel Ostbahnhof
and YAAM.
Also everybody, who party with us. 
If you like to join us for Berlin Carnival, than register here. 
---